Home >

Corporate Information
Corporate Profile
Message from the President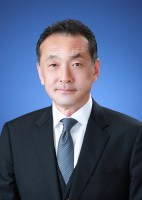 As an Energy Partner in the Era of the Global Environment
The prevention of global warming and securing energy becomes a pressing global issue. The stable supply of electricity is essential to building a safe and reassuring society. Japan's energy self-sufficiency ratio is less than 10%, extremely low figure. Therefore, Japan generates electricity with a suitable combination of multiple energy sources. The mission of GNF-J is to ensure the delivery of high quality products and services to utilize nuclear power generation of CO2-free emission power sources with safe and reassurance, aiming to establishing a low-carbon society.
From JNF to GNF-J
Japan Nuclear Fuel Co., Ltd. (JNF), the predecessor of Global Nuclear Fuel - Japan Co., Ltd. (GNF-J), started operation here in Kurihama in 1967 as a nuclear fuel manufacturing joint venture among General Electric Company (US), Toshiba Corporation and Hitachi Limited. Since it began supplying the first domestically produced nuclear fuel in 1971, GNF-J, a pioneer nuclear fuel manufacturer, has delivered more than 70,000 fuel bundles to various nuclear power plants across the country and contributed to the stable supply of energy in Japan. On January 1, 2000, the sales, design and development operations were transferred from the three joint venture partners to JNF and JNF made a new start as a GE group company, later changing its name to GNF-J, by offering core management services as well as handling MOX fuel design and quality control. Global Nuclear Fuel - Americas, LLC (GNF-A), located in North Carolina, USA, also supplies fuel and provides peripheral technology in the U.S. and around the globe. Based in the U.S. and Japan, GNF takes advantage of the global scale of its business activities.
Involvement with the Local Community
Back in 1967 when GNF-J was founded as JNF, the area surrounding its facilities was mostly farmland but this is now a residential area. It is no exaggeration to say that GNF-J is running its business operation in the local community. Therefore, it is important that we remain fully aware of our social responsibility as a business that is involved in nuclear energy, and give priority to safety in our operation and maintain open communication with the local community. We will continue to strive to be a well trusted company.